For 2023, eleven biological collections are working together for a free, in-person UC Davis Biodiversity Museum Day on Saturday, February 18, 2023, from 9 a.m. to 4 p.m.
On this day, the public is invited to visit the collections, where they are housed, all across the UC Davis campus. An event map is being developed. Each collection will have its own open hours based on their specific staffing, so the schedule will not be the same for all the collections. Stay tuned for that information!
Traditionally UC Davis Biodiversity Museum Day is a free, educational event for the community where visitors get to connect with UC Davis scientists from undergraduate students to staff to emeritus professors. In 2021, we pivoted to a month-long, virtual program. In 2022, also because of COVID regulations, we held the event in the UC Davis Conference Center as an "expo." This year, we continue to maintain that spirit and are excited to return the event to our home departments, so come and join us across the campus as we explore amazing objects and organisms from all around the world!
 
 Coming Soon! Event Map
Biodiversity Museum Day Schedule (pdf)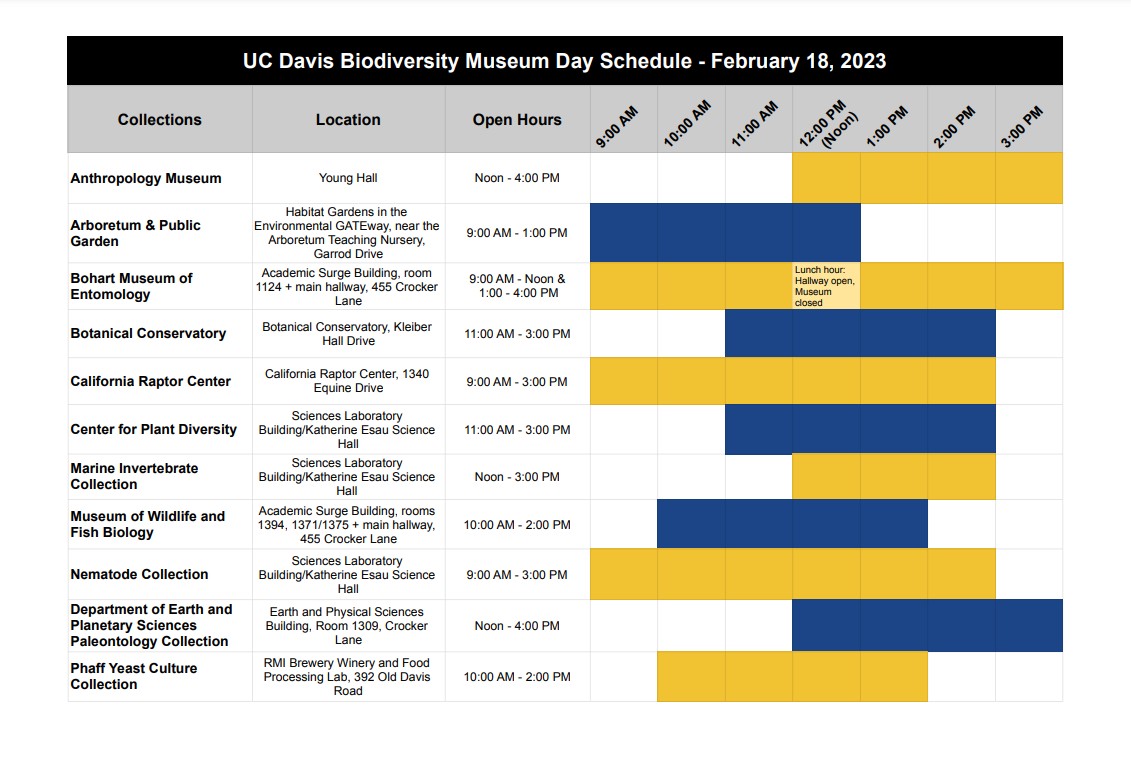 From 2012 to Present

Click here to view some images from the previous Biodiversity Museum Day events
Enjoyed this event in the past? Please help us in giving this event a bright future!
Donate to Biodiversity Museum Day
The 2023 Participating Collections   
Marine Invertebrate Collection

Previous Biodiversity Museum Days: